By Terry Fouts, MD, BridgeHealth Senior Clinical Advisor
When it comes to having surgery, a one size approach doesn't fit all.
That's one thing that COVID-19 has made perfectly clear.
From ever-changing state and facility rules and regulations to varying degrees of provider and patient comfort levels, those who provide care as well as those who need care are being challenged in unprecedented ways. And while surgeons, physicians and other healthcare workers are eager to get back to work, doing so is a difficult proposition.
However, with no clear end to the pandemic in sight, there is no other option.
As COVID-19 infection rates continue to rise, even more hospitals are reaching capacity in their ICUs. A never-before seen backlog of non-emergency surgeries already exists: estimates indicate it could take up to16 months to clear just the orthopedic surgeries that have been suspended during the pandemic (Jain, et. al. 2020).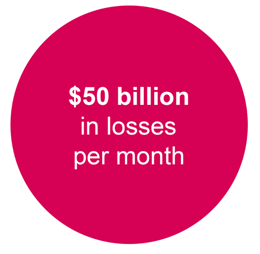 Such backlogs not only worsen patient outcomes; they also stress physicians. And while most physicians are eager to get back to work — the hospitals they work at are losing about $50 billion a month, according to the American Hospital Association. They must navigate numerous variables, including state and national guidelines, staffing, supplies, personal protective equipment (PPE), drug availability and patient preferences.
Add in the universal fear that the next person you talk to or coughs on you could infect you with a deadly virus, and you can easily understand how much stress surgeons and other healthcare providers are experiencing.
Helping patients choose elective surgery
It's clear the coronavirus is the new normal. Some experts predict it may even become endemic. But that doesn't mean we can't continue to provide the non-emergency surgery patients want and need.
Throughout the pandemic, BridgeHealth has worked closely with each member faced with a delay — rescheduling surgeries wherever possible; coordinating with our centers of excellence (COEs) to determine potential, local solutions should surgery be imminent; and touching base with members at regular intervals to see where they need help while they wait. We also introduced mindfulness solutions and virtual physical therapy through SWORD Health to provide added support for members while they wait.
When weighing whether or not to have surgery, safety must be the top consideration. With that in mind, we advocate a four-prong approach:
Patient selection
Facility readiness
Geographical safety
Travel considerations

Patient selection: Who and when
Most patients who have chosen or been forced to delay their surgeries eventually schedule them, typically in the following three to six months, but only if they feel their safety is secure, both in the facility where the surgery will be performed, as well as while traveling to and from the facility. To address those concerns, at BridgeHealth we have contracted with additional ambulatory surgery centers across the country because these outpatient centers tend to be more accessible and available than hospitals.
"A core component of our effort over the last several months has been to create greater access to high-quality care for members, where an outpatient setting is appropriate," said Jamie Hall, president, BridgeHealth. "Our ability to guide members to those providers who are back online first means we can help members reschedule their surgeries — getting them the affordable, high-quality care they need as safely and quickly as possible," he said.
Patients also need to keep their guard up. They should continue all the basics that we've learned since March: mask, wash hands, limit close contacts, distance, manage their exposure and keep their riskier activities short. If patients go into surgery infected, they are at a higher risk of mortality.
A study in The Lancet showed that the mortality rate (for a specific set of surgeries) for people who were infected with SARS-CO-V-2 was 23.8 percent (2020, p. 27) compared to an overall baseline of 3 percent mortality for surgery patients before the pandemic (p. 27). In addition, people over age 70 had an even higher mortality rate of 34.1 percent (p. 29).
But patient safety isn't the only concern. So is the safety of surgeons and all healthcare workers the patient will come in contact with. After all, the last thing anybody wants to do is bring the virus into the operating room.
To reduce the chances of that happening, most surgery centers are asking patients to isolate for at least 14 days prior to surgery. They are also requiring that patients be tested for the virus immediately before their surgery.
A handy mnemonic device — TOCC — can help keep both patients and healthcare professionals safe:

Travel: When traveling to the facility, whether across town or across the country, will the patient be exposed to the virus?


Occupation: Has the patient's occupation brought him or her into contact with others who are or who have recently been sick? This includes coworkers, bus drivers, grocery store clerks and waiters; it also includes healthcare workers.


Contact: Has the patient been in contact with family or friends who have or have had the virus or feel sick?


Cluster: Is the patient from an area where a cluster of cases makes it more likely that he or she has been exposed to the virus?
Facility readiness: Professional associations are lighting the way
Professional associations including the American Association of Healthcare Administrative Management, the American Hospital Association and the National Association of Healthcare Access Management are doing a great job of publishing criteria to help surgeons triage and prioritize patients. Such prioritization, always an important factor in scheduling, is now more important than ever because of the large backlog of surgeries, which experts predict may take at least a year to clear.
Many factors impact facility readiness. Some facilities are unable to operate at full capacity due to a lack of PPE or a shortage of employees. Others are impacted by an inadequate supply of drugs. For instance, many of the drugs anesthesiologists depend on to keep patients sedated during surgery are being co-opted by ICUs that rely on the drugs to sedate patients who require ventilators.
Geographical safety: Where matters
Hotspots for COVID-19 have shifted from the Northeast to the South and West, with Florida, Texas, Arizona and California accounting for nearly half of all new cases at one point. Now we see other states spiking as hotspots while others begin to get the virus under control. What's ahead of us? Will some states continue to hold down the spread of coronavirus or face an increase in cases?
Many data sources are available to keep up on trends with COVID-19, such as this Johns Hopkins "New Case" tracking tool, which provides data on cases in all 50 states. Another source is the NPR (Jan. 9, 2021) interactive map that shows daily averaged updates by state based on data from top scientific collaborators (pictured below). The New York Times also tracks hotspots based on Census Bureau data. See the end of this article to access additional national guidelines and expert opinions.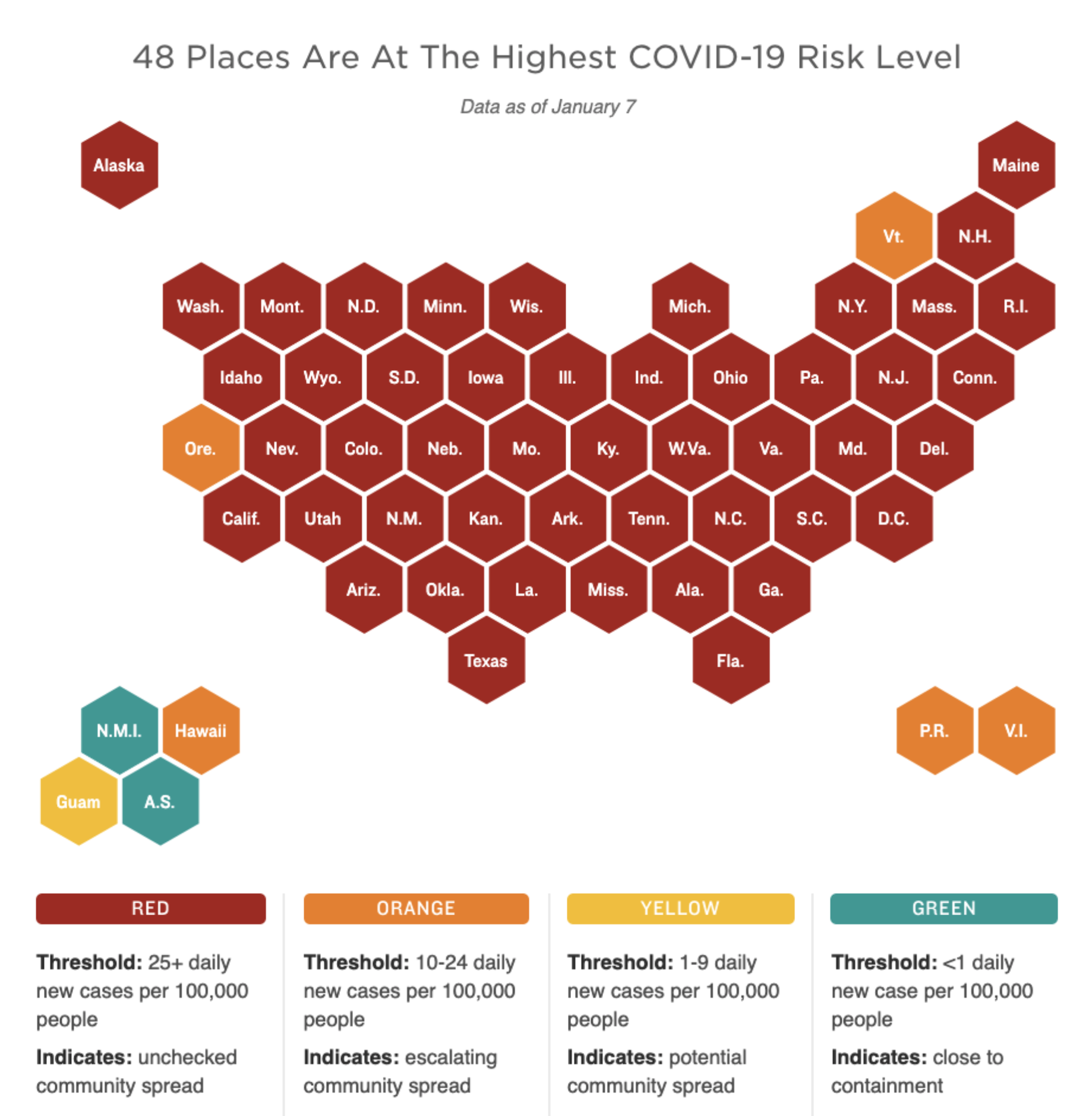 Source: NPR News (January 9, 2021)
Regardless of where patients are coming from, they must be carefully screened, even more so in cities where the number of cases is increasing.
Travel considerations
For patients who must travel, safety is a top concern — for the patient as well as all those he or she comes into contact with. Take those who must fly. Are the airports they will pass through located in cities with high rates of coronavirus? Are airport employees practicing safe distancing and best practices when it comes to hygiene?
Now or…
So, is it safe to have surgery? While that decision should always be made by the patient and his or her surgeon, for most people I believe the answer is a qualified yes based on evaluation of our TOCC criteria. BridgeHealth, like the entire medical profession, is doing all we can to ensure patients are ready for surgery, know what to expect, and are kept safe every step of the way.
National guidelines and expert opinions
Adapted from the BridgeHealth webinar: Is now a good time for surgeries?
See related blog posts:
Part 1: Impact of COVID-19 on the healthcare industry
Part 3: How to advocate for patients during COVID-19
BridgeHealth delivers industry-leading, value-based healthcare solutions, including its national, bundled-payment surgical centers of excellence programs.
References
American Hospital Association. (May 5, 2020). News. "Report: Nation's hospitals losing about $50B a month fighting pandemic."
Jain, A., Jain, P., & Aggarwal, S. (July 1, 2020). SARS-CoV-2 Impact on elective orthopaedic surgery. The Journal of Bone and Joint Surgery: 102:13pe68 doi: 10.2106/JBJS.20.00602
Johns Hopkins Coronavirus Resource Center. Tracking. Maps and Trends. "America Is reopening. But have we flattened the curve?"
COVIDSurg Collaborative. (July 4, 2020). "Mortality and pulmonary complications in patients undergoing surgery with perioperative SARS-CoV-2 infection: an international cohort study." The Lancet. 396: 27–38
NPR News. (Jan. 98, 2021). Coronavirus by the numbers. "Coronavirus Maps: How severe is your state's outbreak?"
The New York Times. (Aug. 25, 2020). The Coronavirus Outbreak. Maps and Cases. "Coronavirus in the U.S.: Latest map and case count."