In this series, we share what we see from our care coordinators, our providers (hospitals, outpatient centers and ambulatory surgery centers), our employer sponsors and the more than 1 million members and 700 plus surgeons with whom we work.

By Jeff Somar, BridgeHealth Chief Revenue Officer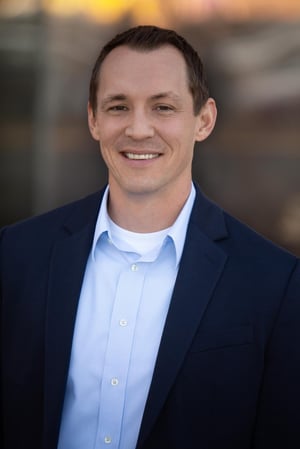 Jeff Somar, BridgeHealth Chief Revenue Officer
They may be called "elective surgeries," but for patients the pain, disability, fear and loss of function, can be overwhelming as they wait to have surgery during the COVID-19 pandemic. While that term, elective procedures, has become more familiar to all of us in the healthcare marketplace, elective doesn't necessarily mean that it is not urgent for individuals who need a knee replacement or heart surgery, for instance. Their quality of life, their pain, the challenges that they face on a daily basis puts an incredible strain on them. "Navigating the healthcare system—especially when you are anticipating pain, risk and the inconvenience of a major surgery—was pretty hard before the pandemic, but now it's just daunting," said Terry Fouts, MD, BridgeHealth senior clinical advisor.
Meanwhile, physicians and other healthcare workers also are struggling and eager to get back to work, but have to navigate many variables—local conditions, staffing, supplies, drug availability, national guidelines and patient preferences.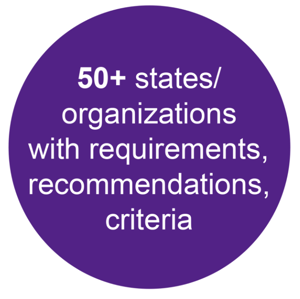 There are more than 50 different healthcare experts as well as state and federal organizations with requirements and recommendations. Facilities have to contend with staffing issues as well as getting special equipment and personal protective equipment and are losing about $50 billion a month, according to a report issued by the American Hospital Association. "All of this is occurring within the mosaic of varying, and often conflicting, national and local recommendations topped off by the universal fear that the next person you talk to or coughs on you may infect you with a deadly virus," Fouts said.
As a "centers of excellence" and surgical advocacy program, those of us at BridgeHealth encounter this conundrum daily as we help our members, providers and plan sponsors weigh decisions around elective procedures, knowing that inherently there is risk associated within our current environment. In this series, we share what we see from our care coordinators, our providers (hospitals, outpatient centers and ambulatory surgery centers), our employer sponsors and the more than 1 million members and 700 plus surgeons with whom we work.
Mindfulness program, online PT support patients during COVID
Our unique vantage point as the nation's largest network of providers—160+ centers of excellence ambulatory surgery centers and hospitals—allows us to assess the perspective and challenges in hospitals as well as outpatient settings and what is happening overall in the market. Fortunately for our members, our extensive network gives them access to the care they need because we have facilities across the country. If hospitals are overloaded, we can help our members find an appropriate outpatient surgery center or inpatient setting. And, we added support through solutions such as mindfulness programs to help patients cope with the stress and pain of delayed surgeries.
There are some significant developments in healthcare with respect to claims and delays in surgeries. A significant backlog was created from bans on elective surgeries and people wanting to avoid doctors and hospitals since COVID hit. What is happening is different for every provider, every facility and every state.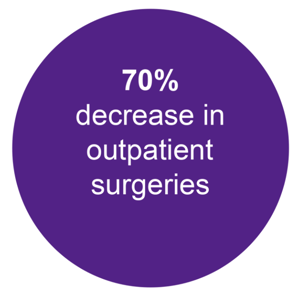 One of the largest U.S. for-profit hospital networks saw a 70 percent decrease in outpatient surgeries in the early days of the COVID pandemic, according to an article in Reuters.
For health plans and employers that provide insurance, earlier this year there was "an overall decline in healthcare use of about 30% to 40% excluding COVID-19 patients, according to Tim Nimmer, the global chief actuary at Aon, a benefits company that advises large corporations and health plans," Reuters reported. And today, people are still holding off on elective surgeries as the pandemic continues.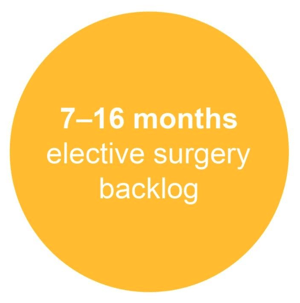 When we delay elective surgeries, a large backlog is created. Johns Hopkins reported in May that we had a seven- to 16-month backlog of elective orthopedic surgeries. That affects more than half the people in the U.S. who have musculoskeletal health issues. There have been 1 million delayed spinal fusion, knee and hip replacements in the U.S. alone, according to the Johns Hopkins study.
Currently, "we are seeing another wave of delayed elective surgeries as a second surge of COVID-19 cases sweeps the country," said Jamie Hall, BridgeHealth president. "This has had a substantial impact on member ability to access brick and mortar facilities for elective surgeries and their related prehab and rehab services," Hall said. "We continue to support our members through this time by adding valuable programs like SWORD Health. This innovative virtual PT program helps our orthopedic patients keep joints strong while waiting for their surgery date."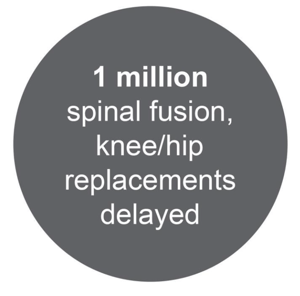 "Physical therapy is an important tool for musculoskeletal health, in managing pain, reducing the need for surgery and decreasing opioid use, as well as an essential step both pre- and post-surgery as patients prepare for and recover from orthopedic and spine-related surgeries," Hall added. "Our whole-member focus means that we will continue to adapt to the needs of our members, through the current pandemic and beyond."
Dealing with virus may be new normal, long term
Experts urge U.S. leaders and the public to start thinking long term. Forbes also reported that worldwide a "total of 28.4 million operations are believed to have been postponed or canceled during the (first) 12-week COVID-19 surge. Of these cases, 2.3 million of them are related to cancer treatment or diagnosis." Fouts added: "Unfortunately, from an epidemiological perspective, it looks like the virus has got to be with us for a while according to Dr. Fauci" who is the director of the National Institute of Allergy and Infectious Diseases. "It's actually showing a comeback in some areas now, and for the foreseeable future, it seems to be the new normal, and may be even becoming endemic," Fouts said.
Coronavirus may never go away. Even with a vaccine, the pandemic could last for years. Embracing that reality is crucial to the next phase of America's pandemic response. At BridgeHealth, we hear stories every single day that inspire us. Something that gives meaning to what we are doing as we try to help plan sponsors and individuals. As we monitor the numbers and criteria for bringing surgeries back, we have developed resources to support members who are struggling, in pain, and afraid, when it is not be possible for them to get the care they need and deserve.
Adapted from the BridgeHealth webinar: Is now a good time for surgeries?
Look for upcoming articles in this series:
Part 2: Impact of COVID-19 on healthcare providers
Part 3: How to advocate for patients during COVID-19
BridgeHealth delivers industry-leading, value-based healthcare solutions, including its national, bundled-payment surgical centers of excellence programs.
References
American Hospital Association. (May 5, 2020). Report: Nation's hospitals losing about $50B a month fighting pandemic. https://www.aha.org/news/headline/2020-05-05-report-nations-hospitals-losing-about-50b-month-fighting-pandemic#:~:text=In%20a%20new%20report%2C%20the,over%20%2450%20billion%20per%20month.
Corley, J. (May 21, 2020). Millions of surgeries have been canceled worldwide due to Covid-19. Here's how long patients can expect to wait. Forbes. https://www.forbes.com/sites/jacquelyncorley/2020/05/21/millions-of-surgeries-have-been-canceled-worldwide-due-to-covid-19-heres-how-long-patients-can-expect-to-wait/#5fce35d67ece
Johns Hopkins Medicine Newsroom. (May 26, 2020). It May Take Up to a Year to Get Through Backlogged Elective Surgeries Due to COVID-19. https://www.hopkinsmedicine.org/news/newsroom/news-releases/covid-19-story-tip-it-may-take-up-to-a-year-to-get-through-backlogged-elective-surgeries-due-to-covid-19
Maddipatla, M. & Humer, C. (April 27, 2020). U.S. health insurers benefit as elective care cuts offset coronavirus costs. Reuters. Healthcare & Pharma. https://www.reuters.com/article/us-health-coronavirus-usa-healthinsuranc/u-s-health-insurers-benefit-as-elective-care-cuts-offset-coronavirus-costs-idUSKCN2291DY